New £80m A16 Crowland bypass to be completed in October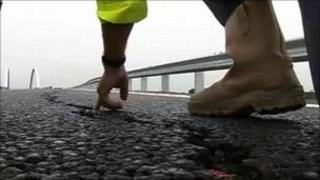 A new £80m road linking South Lincolnshire with Peterborough is due to be completed in mid-October.
The A16 Crowland bypass opened last August but a four-mile stretch was closed when a weak embankment near Eye Green caused cracks in the road.
Lincolnshire County Council said it hoped to recoup the £5m cost of fixing the problem from "third parties" but said it could not elaborate further.
William Webb, council member for highways, apologised for the delay.
He said: "It was hugely disappointing for us and highly frustrating to the villagers of Eye Green."
The council said the exact opening date would be determined by weather conditions as work is completed over the next few weeks.
Work on the new road, from Spalding to Peterborough, got off to a controversial start in 2004 when former authority leader Jim Speechley was jailed for abusing his position to try to influence its route.
The route of the road was finally resolved at a public inquiry.