Bankrupt woman's luxury goods fetch £100,000 at auction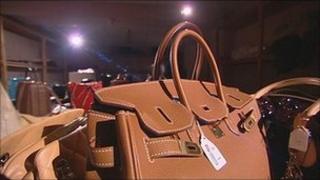 A bankrupt woman's £1m collection of designer jewellery and handbags has fetched just £100,000 at auction in Lincolnshire.
The lots included 30 handbags by designers including Hermes, Chanel and Louis Vuitton.
Auctioneers Brown & Co, of Market Rasen, said the most expensive item was bought for £5,000.
The collection was put up for sale by CRG Insolvency & Recovery, which is handling the woman's bankruptcy estate.