Roman spring stops flowing in a Lincolnshire village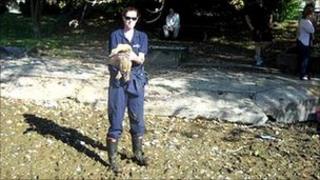 A village spring believed to date from Roman times has dried up for the first time since the 1976 drought - prompting a wildlife rescue.
The RSPCA and villagers rescued ducks and 25 large eels from the well springs in Billingborough, Lincolnshire.
Michael King, chairman of the parish council, said he feared a lot of rain was needed to get the springs flowing.
"It is expected that they will not be replenished until several weeks of winter rain have fallen," he said.
"The spring wells are artesian springs which are fed from the underlying Jurassic limestone aquifer, which also supplies domestic water in this area.
"This water supply is thought to have been in use since Roman times," Mr King said.
He said the rain the villagers were hoping for "needed to fall on the limestone uplands to the west, around Grantham".
The ducks have been moved to a temporary home until the waters return.