Lincoln applies for city centre Purple Flag award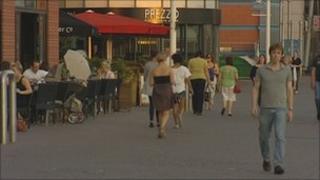 The city of Lincoln is applying for a national award recognising it as a safe and enjoyable place for a night out.
The Purple Flag award, run by the Association for Town Centre Management (ATCM), is similar to the Blue Flag scheme for beaches.
It measures an area's crime rates, hygiene standards and range of visitor attractions.
The aim is to attract more families with children and older people to use town and city centres at night.
'Safe place'
Sixteen towns and cities in England already have Purple Flag status, including Bournemouth, Manchester, Liverpool and Nottingham.
Centres are assessed on their attractiveness and appeal, arts and cultural offer, safety and cleanliness.
Sam Barston is from the West Lincolnshire Community Safety Partnership, which is part of the team bidding for Purple Flag status in Lincoln.
He said: "A big issue is the perception of problems in a city centre - people think that crime is more of an issue than the figures show it is.
"What we are actually trying to show people is that Lincoln is a safe place with a diverse range of activities that everyone can come and enjoy."
The Purple Flag scheme is backed by the Home Office and Association of Chief Police Officers.
Lincoln's application will be assessed and a site visit will be carried out by inspectors to see if the city centre meets the criteria for Purple Flag status - a decision is expected by next summer.