Council to decide future of Spalding's Red Lion Quarter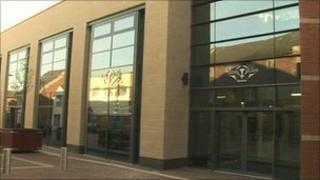 A district council in Lincolnshire will decide the future of a £6.5m food centre at a meeting next week.
South Holland District Council will meet on 11 October to discuss a £340,000 rescue deal for The Red Lion Quarter in Spalding.
The centre, which opened in April and aims to promote the local food industry and boost the town, is managed by the Community Interest Company (CIC).
The council's plans include a temporary closure of the food courts until March.
Councillor Nick Worth, from South Holland District Council, said: "We are talking about bailing out the CIC to protect local businesses.
"We think it's important to protect them and we don't want to see them fail.
"We appreciate that the CIC will give us the opportunity to start afresh with a new company and go along with our original aim for a food heritage centre."
He added that although the "food court has really struggled", Boston College had been very successful with its cookery school and restaurant on the site.
The council said it was likely to recommend the termination of the Community Interest Company's occupancy of the building, and for the company to close its business.