Solar panel plans for Lincolnshire council homes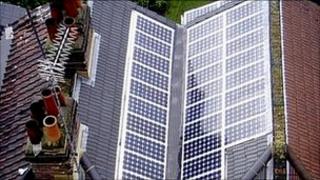 Thousands of council houses in part of Lincolnshire could have solar panels fitted, making £300,000 a year for the local authority.
North Kesteven District Council said it was looking at installing the panels on almost 2,500 council-owned properties in the area.
A private company would rent the roof spaces from the council at about £150 for each property.
The council said tenants could save more than £100 a year on fuel bills.
Out of nearly 4,000 properties owned by the council in the district, it said just under 2,500 would be suitable.
'Long-term investment'
The council's idea is for the work to be done by a partner organisation who would fund the cost of installing the panels.
It estimates this would cost about £14m, but believes the firm could recoup about £30m over the next 25 years under the government's feed-in tariff.
The council has until April 2012 to take advantage of the government's clean energy cash-back scheme and benefit from the higher feed-in tariffs (the amount the government pays for the electricity generated).
Michael Gadd, the property manager at the council, said: "At the moment the government is offering about 43 pence per every kilowatt that's produced.
"That's changing next April and it's going to reduce.
"Twenty-five years is the current lifespan of the panels and the feeding tariff, so it is a long-term investment."
Councillors will discuss the proposal at a meeting in Sleaford on Wednesday.