Boston hospital roof removed to install MRI scanner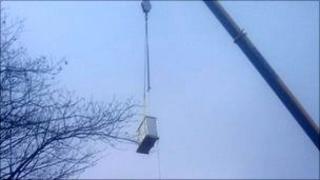 Part of the roof of a Lincolnshire hospital has been removed to allow the installation of a new £650,000 MRI scanner.
The five-tonne scanner was lifted into place at Boston's Pilgrim Hospital by a construction crane.
Hospital managers said the scanner would cut waiting lists, provide more detailed scans and prevent patients having to travel to other hospitals.
The scanner will be put into operation in November.
A hospital spokesman said: "Most patients for MRI are scanned within three weeks but the new scanner will mean the trust will have the potential to reduce this waiting time to two weeks."
The radiology department is extending its opening hours from eight to 12 hours a day and will operate on six days a week.
Additional radiographers and support staff are being recruited to operate the new equipment.
The radiology department is also getting bigger patient preparation and recovery areas, a larger waiting area, improved changing area and access for wheelchairs.