Child's gravestone stolen in Belleau, Lincolnshire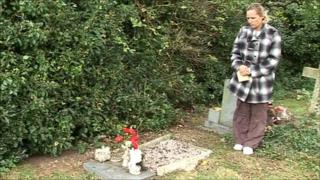 A mother has discovered her young son's gravestone has been stolen from a churchyard in Lincolnshire.
Michelle Holness's son Dion died, aged five days, 12 years ago and was laid to rest at St John's Baptist in Belleau.
Mrs Holness believes thieves targeted her dead son's granite gravestone because of its unusual design which was shaped in a heart with a gold leaf.
Lincolnshire Police want to hear from anyone with information about the disappearence of the stone.
Mrs Holness said she last saw the headstone in the churchyard, near Alford, when she visited on 14 October.
"My daughter was distraught when she first saw it," she said.
'Special place'
"She had brought some flowers to the grave and she just went running to the car to tell her dad that the gravestone was taken."
She said her husband searched the churchyard for the stone but "there was no sign of it".
"My heart was in bits," she said. "I felt very, very cold inside and I was in a state of shock."
Mrs Holness added: "I had to go to work the next day, but I was in bits because I just can't get my head round that somebody could steal something so precious.
"It's sentimental and my special place."
Sgt Andy Hickinbottom said: "The motive for such an unusual theft remains unclear, but it has obviously left a family extremely distressed."
He said officers want to hear from anyone who has seen suspicious activity at the site or has seen the memorial stone since its removal.
The church's vicar, Reverend Lorraine Turner, said: "It seems incomprehensible that someone could do something that could cause so much distress."
She added no other gravestones had been stolen from the church.