Toddler's lake death in Skegness a 'tragic accident'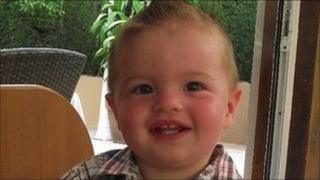 The death of a 19-month-old toddler at a Lincolnshire caravan park was "a dreadful and tragic accident", a coroner has said.
Kai Game, from Peterborough, died on 3 September after falling into a lake at the Skegness Water and Leisure Park.
The inquest heard the toddler was found face down in the lake by his father after he had gone missing.
A verdict of accidental death was recorded at the Horncastle Coroner's Court.
'Screaming for help'
Deputy coroner Paul Smith heard the toddler's father, Neil Game, had been pitching the tent with his wife, Tammy, while Kai played with the children of a couple who had joined them at the campsite.
Kai had been in the other family's tent, which was pitched near to Mr and Mrs Game's, playing on their airbeds moments before it was realised he was missing.
Mr Game told the inquest that he made his way to the water as part of the search, which they had not been warned about by campsite staff.
He said he jumped straight into the water, which reached to about thigh level on him, and picked up his son but was unable to get out of the water because of an algae-covered concrete slope on the water's edge.
He was "shouting and screaming for help" before he was helped out of the water, where he made desperate attempts to revive his son.
'Loved the water'
Kai was taken to Boston's Pilgrim Hospital and later pronounced dead. A post-mortem examination showed he died as a result of immersion in water.
Mr Game told the inquest his son "loved the water" and would often go swimming with his parents wearing armbands.
Recording a verdict of accidental death, Mr Smith said: "Cases involving the death of children are always especially tragic and this case is no exception.
"Water is often an attraction for children of all ages and on the evidence that I've heard this morning I have no reason to suspect that it was as a result of anything other than Kai's natural curiosity that led him to the lake where, sadly, he got into difficulties and drowned."