Ben Gautrey inquest hears of multiple crashes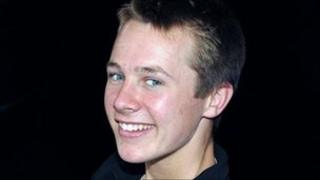 A motorcyclist was hit by five other riders after he fell during a race in Lincolnshire, an inquest has heard.
Ben Gautrey, 18, from Southport, Merseyside, lost control at the British Superbike Series meeting at Cadwell Park near Louth on 29 August.
Horncastle Coroner's Court heard Mr Gautrey was left lying in the middle of the track and several following riders could not avoid him.
Deputy coroner Paul Smith recorded a verdict of accidental death.
Mr Gautrey crashed as he accelerated up a section of track known as Mountain Top on the first lap of the National Superstock 600 race.
Multiple injuries
Fellow rider Simon Napier told the court he was travelling at around 50mph (80 km/h) about 3ft (one metre) behind another rider who was trailing Mr Gautrey.
He only became aware of the crash when the rider directly in front of him suddenly swerved.
Mr Napier told the court he was only about 6ft (two metres) from Mr Gautrey and had no opportunity to avoid him.
The court heard from another competitor, Leon Jeacock, who was one of a group following behind.
Mr Jeacock said: "On the first lap it's so hard, it's that manic, you can't really see more than two bikes ahead of you because everyone's trying to get in front of each other.
"After the first lap you're more spaced out so it's not as easy to make up the spaces."
Mr Jeacock estimated he was travelling at about 60mph (97 km/h) and despite braking hard, could not avoid impact.
The inquest heard Mr Gautrey died as a result of multiple injuries.
Recording the verdict of accidental death, Mr Smith said he believed no-one had been driving aggressively or dangerously and competitive motorsport carried "an inevitable element of risk".