Aiden Jackson jailed for murder of man he 'met for sex'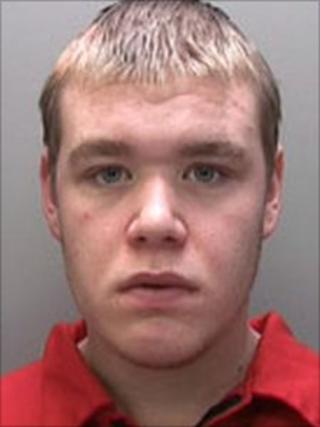 A Lincolnshire teenager has been given a life sentence for murdering a man at a disused quarry near Sleaford.
Aiden Jackson, 18, killed David Cowley, 67, of Boston, after luring him to the isolated spot by agreeing to have sex.
Jackson, who was told he must serve a minimum term of 12 years, intended to rob Mr Cowley, whose body was found on 17 November 2010, Lincoln Crown Court heard.
A jury last month found Jackson, of The Innings, Sleaford, guilty of murder.
The court had heard that Jackson denied murder and had said he did not intend to kill or cause Mr Cowley serious harm, but did accept he was guilty of his manslaughter.
Mr Cowley had made sexual advances towards the teenager, the court heard.
'Inveterate liar'
At the trial, Amjad Malik QC, prosecuting, told the jury that the victim had been an openly gay man who had offered cash and mobile phone top-ups to Jackson in exchange for a sexual liaison.
He said Mr Cowley had been dragged from his car and punched and kicked by the teenager, who had planned to rob him of his vehicle and other possessions before killing him.
The court was told Jackson suffers from attention deficit hyperactivity disorder (ADHD) and has a lack of developmental progress, and that he lied to various people involved in the case.
Judge Michael Heath said: "You are immature I accept, although you have demonstrated during this case a degree of low cunning in your attempts to extricate yourself from the predicament in which you found yourself.
"The precise details of what occurred at the ballast pits are not known, not least because you are an inveterate liar and nothing you've said or say about what occurred can be relied upon."
Speaking after the case, Det Insp Dave Harrop, from Lincolnshire Police, said: "We hope this sentence offers Mr Cowley's family some kind of closure on the matter."
Mr Cowley, from Broadfield Lane in Boston, who had suffered a stroke and had trouble walking long distances, died as a result of neck compression and suffocation, the court heard.