Stolen child's gravestone returned in Belleau, Lincolnshire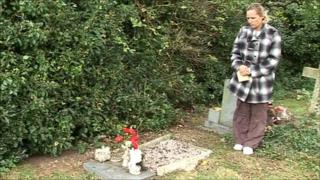 A child's gravestone that was taken from a Lincolnshire churchyard has been returned to its original spot.
The stone from the grave of Dion Holness, who was five days old when he died, went missing from the churchyard in Belleau sometime before 14 October.
His mother Michelle Holness said thieves probably stole the granite gravestone because of its unusual heart-shaped design and gold leaf.
The stone was found nearby on Wednesday and has now been reattached.
Mrs Holness said: "I thought the people that had done this must be sick - but I was so excited to hear it had been found.
"The police rang and left us a message while we were out looking at getting a replacement.
"They have fingerprinted the stone so maybe something will come of that."