Lincoln schoolchildren decorate 'eyesore' shop with mural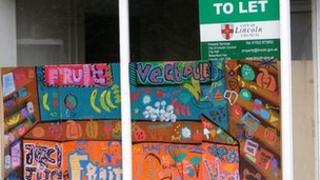 A mural designed by a group of school children to change the appearance of an empty shop window has gone on display in Lincoln.
The shop, on the Manse Estate, was chosen when pupils in the area were asked about what could be improved in the neighbourhood.
Jose Bruce, from City of Lincoln Council, ran the project to create the murals during half-term.
She said that pupils had identified the shop as "a bit of an eyesore".
"There is interest in the shop and we hope in future a tenant will move in to it, hence why it's really important we didn't affect the shop in any way," she said.
"The art is up there now and the community can see it.
"We can then make a decision with the community to keep it up for a couple of weeks whilst the young people show their family and friends or is it something they want to leave up in the longer term."