Council to negotiate energy deal for Lincolnshire residents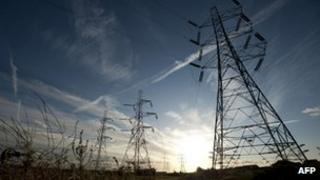 A council in Lincolnshire is preparing to negotiate with energy companies to get cheaper prices for its residents.
It is believed South Holland District Council could be the first authority in the country to buy gas and electricity collectively for domestic customers.
On average up to 34,000 households in the area spend about £40m on gas and electricity.
The authority said it would use its buying power to cut a deal creating huge savings for residents.
'Collective buying'
Councillor Gary Porter, leader of South Holland District Council, said he hoped the initial contract would last for three years.
He added: "You get pestered by people who come to the doorstep and keep telling you to change suppliers, it would be like that but you would come to the council to do it.
"You would then get your supply through whoever was supplying us."
Hannah Mummery, from campaign group Consumer Focus, said "collective buying" could be difficult for domestic customers.
She said: "It's really common in the business sector when large companies will go to an energy company and say 'we have 20 sites and we use this amount of energy, what price can you give me?'
"For domestic customers it's a lot harder. If you've got 34,000 households they've all got to buy into it, they've all go to agree for a certain amount of time."