Hidden population: Lincolnshire's coastal residents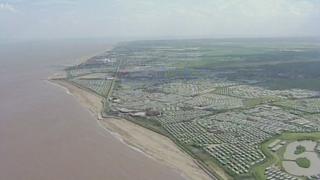 People living in caravans along the Lincolnshire coast are costing a local council millions of pounds in lost government grants, a report has found.
The Sheffield Hallam University study said 6,500 people were living in holiday homes for much of the year.
It found that because many failed to register, East Lindsey council had missed out on population-based grants.
Author professor Steve Fothergill said the authority lost £4m for every 1,000 unregistered residents.
The report showed that out of an estimated 26,000 park homes on the coast, only 270 were registered for council tax in 2010 and just 550 caravan residents were listed on the electoral register.
Lost revenue
Mr Fothergill said: "We found is that there is a substantial community living in caravans on the Lincolnshire coast, with about 6,500 people who spend the biggest part of the year living in caravans.
"This has all sorts of implications for local funding in the area," he said.
The report acknowledges claims that the Lincolnshire coast has the largest concentration of caravans in Europe.
Assistant chief executive of East Lindsey District Council, Stuart Davy, said park home residents should be officially recognised.
"The challenge for us is to encourage the people who make this their home for the majority of the year to make sure they register on the electoral role and for GP services to ensure that they are counted in statistics," said Mr Davy.
"It's not an issue of people not paying - we believe people are paying council tax or business rates through the sites but they are not showing up in the official statistics - it's denying East Lindsey money from central government," he said.
The report found that longer-term living on East Lindsey's coastal caravan sites had increased over the last ten to fifteen years, partly in response to the rising standards of static caravans.
Although it said that planning conditions meant it was still not possible to live all-year-round on most sites.