Bouncers deny 'excessive force' used before nightclub death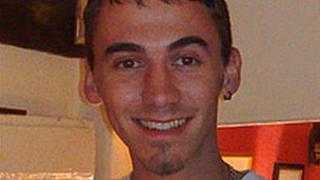 A doorman at a Lincoln nightclub has denied that excessive force was used to eject a man, who later died.
William Pleasants, 23, from Cambridgeshire, died in hospital in October 2008, three days after being thrown out of the Engine Shed.
Shane Gostelow told an inquest at Lincoln Magistrates' Court the restraint used had been "necessary, not excessive".
He also denied Mr Pleasants had been "crushed" by one of his colleagues.
'Aggressive and agitated'
The inquest heard Mr Pleasants had been removed from the Lincoln University venue following an argument over a spilt drink.
He stopped breathing as a group of bouncers restrained him outside the nightclub and was taken to hospital.
Mr Gostelow said he first encountered Mr Pleasants on the dance floor in an "aggressive and agitated" state with his fists raised.
He said: "I was struck or grabbed by Mr Pleasants. I felt this impact against my chest.
"I tussled with Mr Pleasants. I tried to gain control of the situation and I was assisted by other door staff."
He said they fell through a fire exit and on to the street outside as other colleagues rushed to help.
'Fighting and punching'
Mr Gostelow was asked by a lawyer representing Mr Pleasants' mother if it was possible one of the larger bouncers was "crushing the living daylights" out of Mr Pleasants.
He said: "There was nobody laid with their body weight on anybody."
He told the inquest Mr Pleasants was not grabbed or held by the throat, but an "upper body restraint" was used.
Head doorman Neil Burnett told the court how Mr Pleasants went "crazy" at one point and was "fighting and punching".
He said: "I had hold of his feet, somebody had his legs and someone had his top half."
Mr Pleasants' girlfriend, Victoria Nichol, has told the inquest that she saw bouncers kneeling on top of her boyfriend as he was face down on the ground.
Miss Nichol, who was studying criminology at the university, said it was when she knelt down next to him that she thought he was having trouble breathing.
Mr Pleasants, a self-employed sculptor, and a group of friends had travelled from Cambridgeshire that day to visit Miss Nichol and Mr Pleasants' sister, Charlotte, who was also a student at the university.
Six bouncers arrested over the death were released without charge. The inquest is scheduled to finish next week.