Proposals for 360 houses in Sleaford on show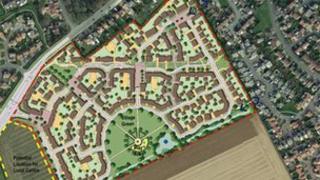 Plans to build up to 360 homes on former farmland in Sleaford have been unveiled at a public consultation.
The development in the Lincolnshire town could also include a village green and shops.
The 25 acre (10 hectares) site is located off London Road, on the Silk Willoughby side of the Southfields estate.
Building could begin by the end of 2012 if planning permission is granted by North Kesteven District Council.
The development is planned to be called Handley Chase, after MP Henry Handley, who was born in Sleaford in 1797.
Sleaford Property Developments, which owns the land, said it was consulting residents before submitting a planning application in January or February.
'Housing need'
Hugh Caseley, one of the company's directors, said existing residents would benefit from the new facilities.
Mr Caseley said: "In Sleaford, to the south of the railway line, we've got a huge proportion of the town's housing and very few facilities, so convenient shopping and other identified needs could easily be catered for adjacent to the housing."
More than 80 people attended the first day of the public consultation at the New Life Conference Centre, on Mareham Lane in Sleaford.
It will continue from 10:00 GMT to 13:00 GMT on Saturday.
Different options for the scheme include between 270 and 360 houses.
Mr Caseley added that there was a great need for housing in the area, citing the Sleaford Masterplan, developed by North Kesteven District Council, which sets out the need for about 4,000 new homes over the next 25 years.