RAF lifts Hawk T2 and Tucano flights suspension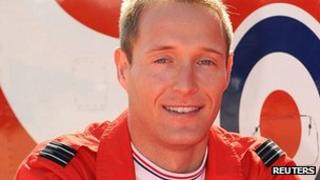 A decision is expected soon on when the Red Arrows can resume flying after some Hawk jets and all Tucano aircraft were cleared for flying by the RAF.
The Tucano and Hawk T Mk2 have been cleared following safety checks to their ejector seat systems.
The RAF said it was still reviewing other evidence regarding the Hawk T1, used by the Red Arrows.
It said a temporary suspension of flying for these aircraft remains in place for the moment.
Hawk training jets at RAF Scampton, RAF Valley and RAF Leeming remain grounded.
The Ministry of Defence implemented a ban on non-essential flying in aircraft with ejector seats similar to those in the Hawk T1 after Flt Lt Sean Cunningham, 35, was killed after being ejected from his plane while on the ground at RAF Scampton in Lincolnshire on 8 November.
Flt Lt Cunningham died after falling from a height and hitting the ground, still strapped to his seat.
The ban has now been lifted for Tornado attack jets, Hawk T2 and Tucano training aircraft.