Lincolnshire's marshes to benefit from £850,000 regeneration project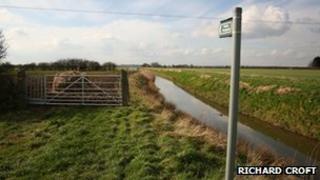 Work has begun on a three-year project to regenerate Lincolnshire's coastal grazing marshes.
The plan, funded by a £857,399 lottery grant, will see paths, information boards and cycle routes added to land near Lincolnshire's coast.
Practical and financial support is also being offered to farmers and landowners to help bring marshes which have been damaged back to life.
It is hoped the project will help attract more visitors to the area.
Organisers of the Lincolnshire Coastal Grazing Marshes Project say the stretch of land, between Grimsby and Gibraltar Point, is a threatened habitat which supports a rich variety of wildlife.
Tourism impact
The project team, led by East Lindsey District Council and a number of groups including Lincolnshire Wildlife Trust, secured the grant through the Heritage Lottery Fund.
Project manager Tom Cairns said the regeneration, which focuses on marshes around Huttoft, Saltfleetby and Burgh-le-Marsh, could help attract tourists visiting nearby seaside resorts.
He said: "People come to Skegness, Louth and Lincoln but actually there is more to see inland than they might have realised. It's encouraging people to spend more time in the area.
"We'll be working with local communities and other groups to develop trails, interpretive facilities, cycle routes and so on."
Other groups in the partnership include English Heritage, the Environment Agency, Lincolnshire County Council, Natural England and the National Farmers Union.