David Twigg fire death: Murder accused 'ran up huge debts'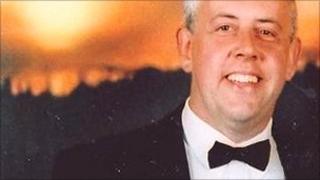 A woman murdered her fiance by locking him inside a workshop at their home and setting fire to it, a jury has heard.
Prosecutors told Lincoln Crown Court Julie Dixon, 43, had concealed huge debts from David Twigg, 46, at the house in Burgh le Marsh.
The court was told Mr Twigg died after inhaling smoke from the fire.
In the days after his death Ms Dixon, who denies murder, told police two masked men attacked the couple at their home, the jury heard.
The prosecution said the defendant also did not tell Mr Twigg about a bankruptcy hearing she was facing.
'Damaging letters'
She was responsible for looking after the books and paperwork at the couple's joinery business, the court heard.
Prosecutor Gordon Aspden told the court: "For some time, Julie Dixon had been failing to pay outstanding invoices from business suppliers.
"The result was that the business developed chronic cash flow problems. Julie Dixon attempted to conceal the full extent of it from David Twigg."
Mr Aspden said Mr Twigg was shocked when he found out that she had taken out a mortgage because of financial difficulties.
He also did not know Ms Dixon had an arrangement with a local garage where she had post delivered to avoid Mr Twigg seeing any potentially embarrassing or damaging letters from creditors, Mr Aspden said.
In October last year, Mr Twigg was declared bankrupt and owed HM Revenue and Customs more than £17,500, the court heard.
'Suicide pact'
Subsequent letters and emails from a tax official wanting to discuss his bankruptcy were ignored by Mr Twigg but were answered by Ms Dixon who repeatedly lied about him working away, Mr Aspden said.
After her arrest on suspicion of murder in June Mr Aspden said she gave a statement to police in which she alleged that she and Mr Twigg had formulated a suicide pact.
Reading her statement to court he said: "In relation to the death of my partner David Twigg I wish to say the following: David and I decided that day to jointly commit suicide in the workshop.
"David poured petrol which I had bought for the lawnmower on to the work shop floor."
Ms Dixon said she was unsure whether to go ahead but took the matches, lit one and threw it on to the petrol.
When the flames started she lost her nerve, she said, and fled, but Mr Twigg remained inside and in the store room.
The trial continues.