Brain tumour girl Starr Halley to carry Olympic torch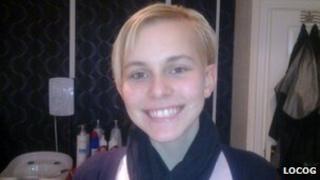 A teenager from Lincolnshire who had a brain tumour at the age of 12 has been offered a place as a torchbearer for the London 2012 Olympics.
Starr Halley, now 14, from Skegness, began suffering headaches in October 2009 and days later had major brain surgery.
Her tumour was discovered after swelling in her neck was noticed at an appointment with an optician.
Starr was diagnosed with Medulloblastoma, a malignant tumour.
She was not able speak or walk after her surgery and was told she might not be able to walk for six months.
Samsung nominated her for the opportunity to carry the torch in the Olympic relay.
Starr Halley said: "I'm so amazed and shocked because it's just an honour. I'm ecstatic."
Starr was given intense chemotherapy and radiotherapy but recovered quickly and managed to run a 5km race within six weeks of her operation.
Starr's mother Corrina said: "We're so proud of her. She deserves it because she's been through so much and she's so brave."
Starr was given the all-clear after a scan in March this year.
About 50 people from Lincolnshire were told they have been selected to carry the Olympic torch as it makes its way through the county.
More than 6,000 people were chosen nationally.