David Twigg death: Judge to establish killer Julie Dixon's motive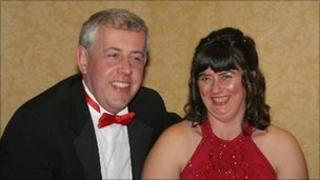 A judge is to establish the motive of a Lincolnshire woman who has admitted murdering her fiance.
Prosecutors told Lincoln Crown Court that Julie Dixon, 43, killed partner David Twigg to prevent him discovering the huge debts she had hidden from him.
But Ms Dixon claimed she killed the 46-year-old at his request as part of a failed suicide pact.
Judge Michael Heath ruled the case would be heard without a jury on 14 December.
Businessman David Twigg died in a fire after being locked in a store cupboard at the couple's joinery business in Burgh le Marsh on 13 March.
Ms Dixon originally told police the couple had been attacked by masked intruders at the workshop next to their home in Station Yard.
Lincoln Crown Court was told on Tuesday that she later changed her story to that of the suicide pact.
She claimed that she was due to die with him but changed her mind at the last minute and fled to safety after setting fire to the workshop.
At a formal plea hearing at Lincoln Crown Court on Thursday she admitted his murder.
Ms Dixon was remanded in custody to await next week's hearing.