Little Lambs nursery in Gainsborough set on fire by arsonists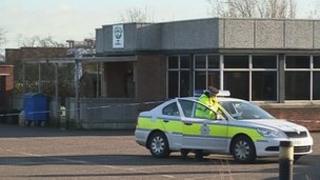 The owner of a Lincolnshire nursery has spoken of his anguish after it was set on fire deliberately.
Little Lambs Day Nursery, on Corringham Road in Gainsborough, was badly damaged in the arson attack on Sunday night.
John Ramm, who has run the nursery for 20 years, said he had "no idea" why someone would have started the blaze which began shortly before 21:30 GMT.
Police and fire officers have started a joint investigation and forensic scientists are due at the scene later.
Mr Ramm said: "We don't really know what to think. It's come out of the blue.
"The police rang me last night to say the fire brigade were up there and smoke was billowing out of the nursery.
Friday nativities
"They said some people had broken in and caused damage. We weren't allowed inside - only firemen with breathing apparatus."
Mr Ramm said he was not sure when the nursery, which is registered to care for 44 children, would be able to reopen.
He said: "We don't know how extensive the damage is but obviously there's smoke damage there too. I understand the kitchen is in quite a bad way."
He added: "We had just had a fantastic day at the nursery on Friday with two nativities with about 98 parents and grandparents there to watch.
"It was coming up to our Christmas parties, which is a fantastic time of year at the nursery.
"We've got staff on the gate this morning for when parents arrive because we couldn't get in to get the telephone numbers for them.
"We've got no idea why they did this. It's 20 years down the drain if we can't do anything about it."