Electric car charging point first for Lincoln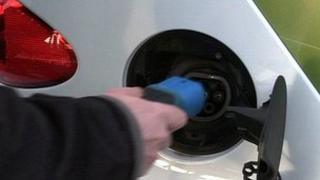 The first public electric car charging point in Lincoln has been unveiled.
The charging point will allow electric car owners to charge their vehicles for free when using the council-owned Lucy Tower car park.
The £5,000 duel charging point has been paid for with a grant from the government.
More points would be installed if there was obvious demand and more funding could be secured, the City of Lincoln Council said.
Ric Metcalfe, leader of the council, said: "We're absolutely committed to promoting the use of low energy and sustainable energy sources that people can use.
"This is a good example of the public sector leading the way in providing the necessary infrastructure," he said.
The City of Lincoln Council is evaluating the possibility of using electric cars, Mr Metcalfe added.
The fact that there were no official charge points for electric cars in Lincoln was highlighted by Top Gear presenters James May and Jeremy Clarkson in May.