Mother of murdered man attacks government over charity funding cuts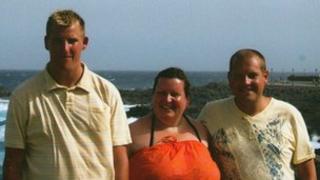 The mother of a man who was beaten to death has criticised the government for cutting the funding of a charity which helps families of murder victims.
Sharon Rossington said it was "disgusting" that regular annual funding had been withdrawn from Support after Murder and Manslaughter (SAMM).
She spoke almost a year to the day after five people were convicted of killing Shaun Rossington in Lincoln.
The Ministry of Justice said it was currently reviewing victims' services.
Mrs Rossington, 47, said: "I think it's disgusting, because at the end of the day families rely on that support.
"It's nice to be in touch with people who have been through very similar circumstances and discuss things, and you can shout and scream and they will know what you've been through."
'Tossed aside'
Mrs Rossington said SAMM was one of the few organisations which had helped her family after her 21-year-old son's murderers were convicted on 17 December last year.
Shaun's brother, Chris Rossington, 26, said: "Once the trial finished you kind of feel tossed aside really."
Both he and his mother believe there should be more long-term government support for relatives of murder victims.
He now intends to raise money for SAMM himself.
The charity used to received £140,000 a year from the Ministry of Justice but the funding ended on 31 March.
The charity successfully bid for £15,000 for the six months from October 2011, and has been told it can bid for £20,000 for the next financial year.
'Deep trauma'
Chief executive Rosie Dixon said: "This is a big drop compared to what we have been getting before.
"There are still lots of people out there that need our support.
"They are suffering really, really deep trauma and that carries on and on unless they get proper support."
Two men and two youths were convicted of murdering Mr Rossington, who had Asperger's syndrome. A 17-year-old girl was found guilty of manslaughter.
A Ministry of Justice spokesperson said: "We are determined to help vulnerable victims of crime, which is why we have provided nearly £50m to specialist support groups this year.
"We are currently reviewing victims' services and intend to launch a consultation soon on proposals that will ensure victims of crime are supported in the best way possible."