Fire investigators probe fatal Sutton Bridge blaze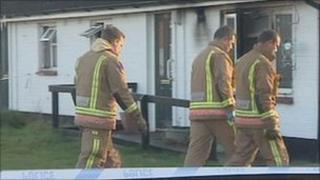 Firefighters in Lincolnshire are trying to establish how a bungalow fire started in which a woman died.
Crews were called to the property on Prince's Street in Sutton Bridge at about 07:30 GMT on Saturday.
Neighbours had managed to help the daughter of the woman who died to escape by the time firefighters arrived at the scene.
The woman, who is in her 40s and believed to have Down's syndrome, was taken to hospital for checks.
Neighbour Kathleen Craven said everyone was very shocked by what had happened.
"Apparently when they [neighbours] did go in and fetch her, she was crouched behind the door and just didn't know what to do.
"Just before Christmas too, it is very upsetting for everyone that knows her."
Investigators said the fire could have smouldered for several hours before the alarm was raised.
Kieran Davey from Lincolnshire Fire and Rescue said although the cause of the fire was still unknown, people needed to take care.
"Our thoughts are with the next of kin and family members and friends of the deceased.
"It's a timely reminder to stay safe, check your smoke alarm and be cautious at this time of year with naked flames."