Sight test picks up rare tumour in Grantham man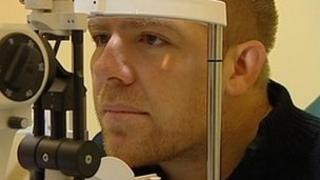 A Lincolnshire man says an eye test which uncovered he had a rare brain tumour saved his life.
Chris Brown, from Grantham, went to the opticians after he noticed the vision in his left eye was blurred after dust blew into his other eye at work.
Optometrist Stuart Rusk referred him to a specialist at hospital who found he had a tumour on his pituitary gland at the base of his brain.
The 32-year-old has now undergone surgery to remove the tumour.
Mr Brown said: "They said if i didn't get it sorted out or operated on I'd be blind in two years and dead within six, so it was a bit scary.
"This is the second eye test I've had in my life and it's worth having it done if it's going to save people's lives."
The bricklayer underwent six hours of surgery and has just been told the operation was successful.
Optometrist Stuart Rusk said: "I've only played a small part in this.
"I'm so relieved I found it and you do get satisfaction when you do something positive to help someone."
The condition is rare and affects approximately two in every million people.