David Twigg death: Court hears Julie Dixon's motive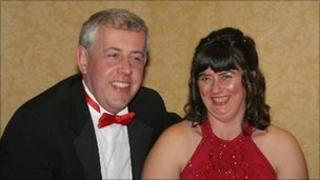 A woman who has admitted killing her fiance in a fire has told a court his death was part of a suicide pact.
Julie Dixon, 43, from Lincolnshire, admitted the murder of David Twigg on 7 December, the second day of her trial.
But before she can be sentenced, a Newton hearing is being held at Lincoln Crown Court to decide her motive and version of events.
Dixon said Mr Twigg had talked about suicide after being declared bankrupt and had said he "couldn't carry on".
Mr Twigg died after inhaling smoke when he was locked inside a store cupboard at his joinery firm next to the couple's home in Station Yard, Burgh le Marsh, during the fire on 13 March.
Borrowed £396,000
Dixon originally told police they had been held by two intruders but she escaped, though she has now admitted that account was false.
The court heard the couple had borrowed a total of £396,000 over the past seven years through loans and remortgaging their home to pay off business debts, credit card bills and for home improvements.
Julie Dixon told the court her fiance had known about the debts for the past four years and she had never diverted money from the business for herself, or forged his signature to get cash from the account.
She said he was "distraught" when he was made bankrupt last year.
But despite that, the couple had recently spent £2,000 on a holiday to the US.
Dixon told the court that a warrant had been issued for Mr Twigg after he failed to attend a bankruptcy hearing three days before he died.
The hearing continues.