Story of Lincolnshire's WWII Land Girl told in new film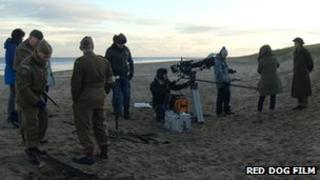 A new film based on real accounts of working as a Land Girl during World War II has been filmed in Lincolnshire.
By the Winter Sea is the creation of Red Dog Film and is based on letters taken from a book called Lincolnshire Women at War.
It tells the story of Ada, who moved from London to work on a farm in Anderby Creek, near Skegness.
The film has been made on behalf of Lincolnshire's Coastal Country Park project to promote local history.
Director Phil Stevens discovered the book, which is a compilation of letters written by women who came from all over the country to work the land during WWII.
He said: "The letters give a snapshot of life in the county and the experiences of the women who worked here.
"The film shows what rural life was like for city girls during the war and involves Ada overcoming her inexperience to go on to really enjoy her new life."
'Slice of history'
Councillor Eddy Poll, Lincolnshire County Council's executive member for economic development, said: "This short film is a novel way to bring to life a slice of the Lincolnshire Coastal Country Park's history.
"It will show what it was like to live and work on a Lincolnshire coastal farm during the Second World War in a way that people can easily access and understand."
The Lincolnshire Coastal Country Park project, which aims to promote the area's heritage and restore wetland habitats for wildlife, said that during the war much of the land on the coast was grazing marsh, with dairy and cattle farms similar to the one Ada worked on.
Scenes were shot at various heritage sites in the county, including the Lincolnshire Wolds Railway in Ludborough, Church Farm Village in Skegness and on the beach at Anderby Creek.
As well as telling the story of Lincolnshire's Land Girls, the film also focuses on the role of the Home Guard during the war.
The filmmakers also had to find authentic props and costumes from the time.
These included a 1934 Austin Ruby, supplied by a garage owner from Skegness, and costumes worn by the Land Girls in the film, which were supplied by Lincoln-based Orchard House Wardrobe, who supply period costumes for museums and films.
There were more than 80,000 Land Girls nationally during WWII, carrying out farm work to replace the labourers who were fighting abroad.
The film is expected to be released in February 2012 and will be used to promote Lincolnshire's heritage in schools and online.