David Twigg 'helped start fire which killed him'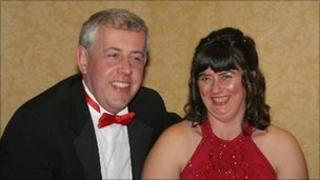 A woman who admits murdering her fiance has claimed he helped to start the fire which killed him.
Julie Dixon told Lincoln Crown Court her partner David Twigg wanted to die because of debts hanging over them.
At a hearing being held to determine her motive, she claimed Mr Twigg poured petrol on the floor of his workshop in Burgh le Marsh, Lincolnshire.
She then admitted locking him in a storeroom, where he died after inhaling smoke on 13 March this year.
Dixon, 43, told the Newton hearing: "He didn't want to burn to death. He just wanted to suffocate."
She then started sobbing.
'Couldn't go on'
"David poured the petrol on to the foyer floor and then went into the storeroom and got me to lock the door using his keys," she added.
"He was sorry that he'd let us all down."
Dixon originally told police the couple had been attacked by masked intruders.
When asked in court why she invented this story, she said: "Because he didn't want it to look as if it was suicide.
"He didn't want people to know how low he was and didn't want to be seen as a failure."
Dixon, previously of Station Yard, Burgh le Marsh, admitted murdering Mr Twigg on the second day of her trial.
When asked why she changed her plea to guilty, she told the court: "I couldn't go on with it any longer. I couldn't cope. I didn't want to put the family through any more."
The court previously heard the couple had borrowed a total of £396,000 over the past seven years through loans and remortgaging their home to pay off business debts, credit card bills and for home improvements.
Dixon will be sentenced following the Newton hearing.