Killer Julie Dixon played role of grieving victim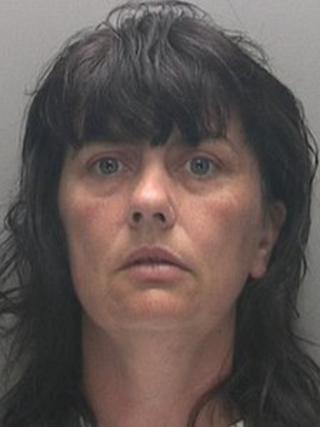 It was an acting performance which Julie Dixon hoped would help her get away with murder.
However a judge did not believe her account and gave her a life sentence with a minimum term of 23 years behind bars.
Dixon concocted two separate stories to explain why her partner David Twigg had been locked in a cupboard at his workshop before the premises were set on fire.
But police saw through Dixon's elaborate lies and charged her with his murder.
At a Newton Hearing - held when a defendant has pleaded guilty but the prosecution and defence disagree on factual issues - at Lincoln Crown Court, her months of deception were revealed.
Shocked community
The court was played a panicked 999 call made by Dixon on the night her partner died at their joinery business in Burgh le Marsh in March.
She claimed she had escaped from two robbers, dressed in black, who had raided the premises before locking Mr Twigg in the workshop and setting the place on fire.
Her account of the violent incident shocked the local community and friends and family rallied around to help her through her grief.
But police officers combing the scene could find no evidence of masked men.
Despite this, Dixon stuck to her story, lying to Mr Twigg's devastated family for several months.
The hearing was told she even collapsed in grief at their home at one point.
Suicide pact
Meanwhile police continued to weigh up her version of events and in June they arrested Dixon, subsequently charging her with her partner's murder.
Dixon turned to a second story.
She admitted killing Mr Twigg but claimed it had been part of a suicide pact the pair had entered into because of mounting financial difficulties.
The court heard Mr Twigg had been made bankrupt after the couple borrowed a total of £396,000 in seven years to pay off business debts, credit card bills and pay for home improvements.
However, Dixon had somehow managed to keep news of her partner's bankruptcy a secret from him, going to great lengths to hide the true scale of their financial predicament.
The court heard she had even set up an arrangement with a local garage where she had post delivered to avoid Mr Twigg seeing any potentially embarrassing or damaging letters from creditors.
Lost her nerve
In a statement read out in court, she said: "In relation to the death of my partner David Twigg I wish to say the following: David and I decided that day to jointly commit suicide in the workshop.
"David poured petrol which I had bought for the lawnmower on to the workshop floor."
Dixon said she was unsure whether to go ahead but took the matches, lit one and threw it on to the petrol.
She then claims she lost her nerve and fled the scene, but Mr Twigg remained inside.
After discounting this second version of events, Judge Michael Heath decided Dixon should spend the next 23 years behind bars.
While money clearly played a major role in the couple's relationship, police said it may not have been the sole motive.
Det Ch Insp Stuart Gibbon said: "We may never know why she did it.
"Something has happened over a period of time, but particularly that weekend, which has made her carry out these cold-hearted actions.
"She may well be the sort of person - which has been demonstrated with a bit of deceit along the way - who will never fully accept responsibility for the actions she has carried out."