Lincoln chief executive Ursula Lidbetter appointed MBE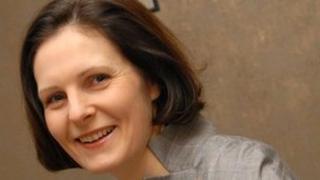 The chief executive of a chain of stores in Lincolnshire has been appointed MBE in the New Year Honours.
Ursula Lidbetter, of Lincolnshire Co-operative, was recognised for her services to business in the county.
She joined the firm in 1985 as a buyer and department manager of Lincoln's Silvergate store and became chief executive in 2004.
Ms Lidbetter, who is from Lincoln, is the chair of the city's Business Improvement Group.
She is also chair of the Lincolnshire Chamber of Commerce.
"I am delighted to be recognised in this way," she said.
"We make an effort to support other local businesses, such as county suppliers and contractors."
'Absolutely shocked'
Frieda Minns, 81, who came to Sutton Bridge from Liverpool with the Land Army in 1948, has been appointed MBE for services to the community.
Mrs Minns, who began volunteering 45 years ago, has fundraised for the youth club in Sutton Bridge as well as for local schools, churches and older people's clubs.
She said she was "absolutely shocked" when she heard about the honour.
"I just thought someone was playing tricks on me but I have done a lot of fundraising," Mrs Minns said.
Others honoured in Lincolnshire include Timothy Wakeman, chair and chief executive of the Performance Timber Products Group, who was appointed OBE for services to the joinery manufacturing industry.
Jacqueline Cheetham has become an MBE for her voluntary service to the Women's Institute.
And Richard Crompton, Chief Constable of Lincolnshire Police, has been given a Queen's Police Medal.