Lincoln Cathedral bell Great Tom repaired for new year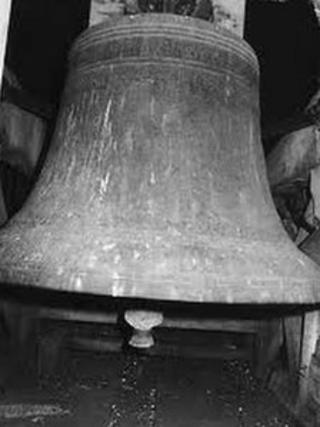 Lincoln Cathedral's main bell has been repaired in time to ring in the new year.
The workings of the Great Tom bell had to be taken down in November after it stopped functioning due to wear and tear.
Cathedral staff were worried the bell would not be ready for New Year's Eve, but a new spring has now been made and fitted by a specialist firm.
Bell ringers will be ringing out the old year from 23:00 GMT.
The Dean's Verger John Campbell said: "They were fighting against time but they got it fitted earlier than we expected.
"So, we're grateful to the company who have been repairing the springs on the hammer jack of Great Tom and now the hour is being heralded.
"The bell ringers will be ringing out the old year with half-muffled bells from about 11 o'clock, they have a bit of a pause and Great Tom is rung manually to strike 12 and there's a great peal of bells to herald the new year."
It is only the second time the bell has fallen silent since World War II. The first time was during filming of the Da Vinci Code in 2005.
The bell, which has been ringing since 1835, chimes 40,880 times a year.