Older drivers offered car training in Lincolnshire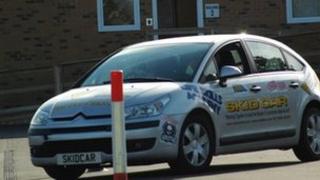 A rise in accidents involving older drivers has prompted a road safety group in Lincolnshire to offer training in modern car technology.
The Lincolnshire Road Safety Partnership said older drivers often lacked confidence and the necessary awareness to be safe.
The number of over 65s killed or seriously injured in the county rose from 39 in 2005 to 79 in 2010.
The workshops will allow drivers to try out a simulator and skid car.
Greville Burgess, principal road safety co-ordinator for the organisation, said: "Mature drivers often lack confidence, usually because they are unfamiliar with new technology such as ABS, traction control or even having so many gears.
"One man recently informed me that he had purchased a car with six forward gears but rarely gets out of 4th because he thought that 5th or 6th would make him travel too fast."
He said crashes involving older motorists were increasing but added that "a bit of training" and "reasonable health" could allow drivers to continue well into their 80s and 90s.
The workshops are taking place at the partnership's premises in North Kyme, near Sleaford, on 24 February and 23 March, 2012.