Kurt Tyrrell killed girlfriend Katy Winchester, coroner rules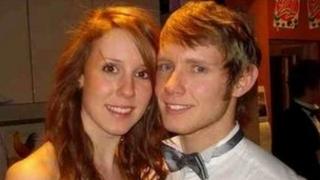 A woman was unlawfully killed by her boyfriend who then committed suicide, a Lincolnshire coroner has ruled.
Katy Winchester, 21, and her boyfriend Kurt Tyrrell, 26, were found dead in the bedroom of his house on Tiber Road in North Hykeham in April 2011.
The inquest at Lincoln Cathedral Centre heard Miss Winchester died from compression to her neck and Mr Tyrell died from ligature strangulation.
Spokesman for Lincolnshire Police James Newall said it was a horrific case.
'Scary and uncontrollable'
"A really tragic set of circumstances, which has devastated two families," he said.
"Everyone who knew Katy and Kurt has been deeply affected, as has the wider community - people were shocked at the time when they heard about this."
He added: "Really, this is a case of domestic abuse.
"We heard that Kurt had become violent occasionally when he had been drinking to excess... no reports were ever made to the police."
Mr Tyrrell had been drinking heavily with friends before he met up with Miss Winchester at a bar in Lincoln on 3 April, the evening of their deaths, the inquest heard.
West Lincolnshire Coroner Stuart Fisher was told Tyrrell could be aggressive, scary and uncontrollable when he was drunk.
'Violent argument'
Mr Fisher said at the end of a two-day inquest: "There was a violent argument which developed between Miss Winchester and Mr Tyrrell.
"Miss Winchester suffered a fracture to her nose and injuries to her mouth. Those injuries were caused by two separate hard blows to the face.
"The pathologist found that she had been strangled.
"I am satisfied that Kurt Tyrrell then applied the ligature to his neck. He died as a result of suicide."
Miss Winchester was originally from Sleaford and was studying English Literature at Manchester Metropolitan University.
The couple had been dating for three years and had booked a holiday together just two days before they were found dead.