Siemens facility in Lincoln opens after £4m investment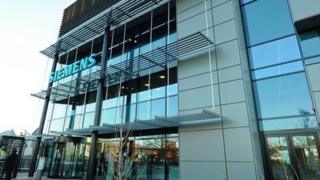 A newly modernised gas turbine manufacturing plant in Lincoln has been unveiled, after a £4m investment.
The money put into the Pelham Bridge site demonstrated Siemens' commitment to the city, a spokesperson for the engineering and technology firm said.
The company has already invested in a new engineering school at the university and a manufacturing and research facility at Teal Park.
It is the city's largest engineering employer with a workforce of 1,500.
'Exciting time'
The new Joseph Ruston building was opened by the Bishop of Lincoln on Friday.
It has been built with a focus on being energy efficient, with automatic lights, electric car charging points and a low carbon footprint, Siemens said.
Nick Muntz, managing director at Siemens in Lincoln, said: "The investment is not just a demonstration of our belief in the company but also it is needed because the work is going to continue to increase.
"The projections are that we have a long term future here."