Fireworks for teenager killed in Boxing Day trike crash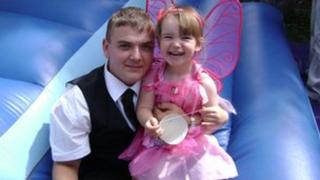 Family and friends of a teenager killed in a trike accident on Boxing Day will light fireworks in his memory.
Martin Bunn, 18, was riding a 50cc trike scooter in a car park near the Lincs FM building when he hit a bollard and sustained fatal head injuries.
His father Gavin expects between 50 and 60 people to gather at about 19:00 GMT near the accident scene, in Waterside South, Lincoln.
He also expects about 300 people to attend Martin's funeral on Wednesday.
Mr Bunn, 50, said Christmas Day had been special because it was the first year the family had all gone out for dinner.
'Big plans'
"We always have Christmas at home, but we had been working 16 and 17 hours a day, so we went out on Christmas Day," said Mr Bunn.
"Martin worked for the family solar heating business and we had big plans for him this year.
"He was nipping in and out on Boxing Day [26 December] and next thing we know we got a call just after 10 o'clock saying he had been in an accident.
"We thought he had a broken leg. You never think the worst, but it was the worst."
Martin, who lived with his family in Ashfield Street, Lincoln, died at Lincoln County Hospital after being found by paramedics at about 22:00 GMT.
His mother, Christine, 50, and older brothers Thomas, 21, and Daniel, 20, will be among the mourners at his funeral service at All Saints Church, on Monks Road.