Crackdown on violence towards NHS staff in Lincolnshire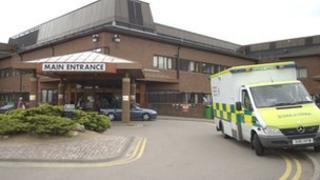 Hospital bosses in Lincolnshire have stepped up their campaign to crack down on violent behaviour towards staff.
United Lincolnshire Hospitals NHS Trust said violent and aggressive behaviour towards staff would not be tolerated.
It said from 2010 to 2011 there were 177 violent incidents against staff at its hospitals in Lincoln, Grantham, Boston and Skegness.
Anyone who assaults an employee during the course of their work will be prosecuted, the trust said.
Risk assessment
The NHS trust's Lance Morgan said: "Tackling violence and aggression requires careful coordination and planning.
"Managers and staff work closely together to assess the risks to patients and staff.
"Fortunately it is rare for serious assaults to occur although the level of harm to any individual can be devastating."
Insp Pat Coates, from Lincolnshire Police, said: "No member of staff should be subjected to violence or aggression from a patient, their relative or friend when the staff are trying to help them.
"Lincolnshire Police works closely with the trust and its staff to prevent such instances and this behaviour will not be accepted. Offenders will be prosecuted."