Man jailed after stealing cash from children's charity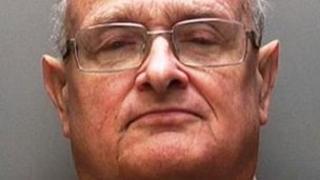 The former treasurer of Lincoln City Supporters' Trust has been jailed for two years for stealing £42,000 from a children's charity.
Michael Thompson, of Lincoln Road, Eagle, took the cash while acting as treasurer of the Mukherjee Brothers Charitable Trust.
The 69-year-old former bank worker used the money to fund a lavish lifestyle.
The judge at Lincoln Crown Court told Thompson he had committed "a despicable breach of trust".
The court heard that Thompson was appointed treasurer of the organisation, which provides grants to schools in Lincolnshire and East Yorkshire, after becoming friends with one of its founders, Sibnath Mukherjee.
'Expensive lifestyle'
After Mr Mukherjee died in 2009, Thompson had been due to receive £8,000 from his will but instead transferred £50,000 into his own account over a 12-month period.
An investigation by the charity revealed Thompson had forged audit certificates for the charity.
He was also found to have forged signatures on a legal document which altered Mr Mukherjee's will so that it appeared he was due to receive £38,000 instead of £8,000.
The court heard Thompson had already spent a £100,000 legacy left to him by his mother.
After his arrest, he told police: "I lead an expensive lifestyle"
As well as admitting the theft of £42,000 between December 2009 and December 2010, Thompson admitted two charges of forgery.
He was told he must pay the money back to the trust.
Investigating officer Det Con Nick Hakes of Lincoln CID said: "If Mr Thompson had continued with his criminal activity unchecked he could have risked the future of the trust - which would have been a terrible loss for young people in Lincolnshire."
Thompson was removed from his position with Lincoln City Supporters' Trust last month after his deception was made public.