Lincoln's Ritz Cinema set to reopen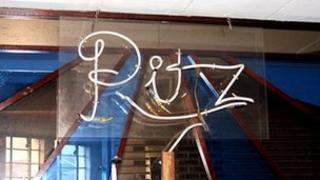 A cinema in Lincoln is set to reopen after standing derelict for more than a decade.
The Ritz cinema on the High Street closed in 1996 but a community group has announced plans to renovate and refurbish the venue.
Pete Genders, from Off the Bench, said it would open as both a commercial cinema and youth theatre this year.
But the voluntary organisation said a lot of work needed to be done first and has appealed for help from the public.
'An alternative'
Mr Genders said the project was seen as a way of tackling levels of crime and antisocial behaviour in Lincoln.
He said it was intended for the cinema to be cheaper than others, giving people "an alternative in the city".
"We thought it would be great for Lincoln to have an affordable cinema people can go to," he said.
A JD Wetherspoons pub occupies the foyer and stalls area on the ground floor of the building but a decaying auditorium remains upstairs, the voluntary organisation said.
The seats and the screen have been removed and the projection areas closed off and in various levels of decay.
As well as initial funding from City of Lincoln Council, Off the Bench has applied for a Heritage Lottery grant and the scheme has been supported by JD Wetherspoons.
Mr Genders said: "We will be opening in stages. The youth rooms will open by the end of February and, hopefully, the screen itself will be open in the summer.
"It's really exciting," he said.