Council asked to reconsider Mablethorpe development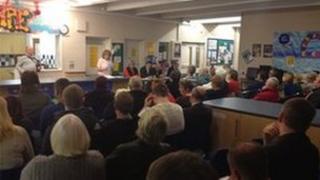 Developers hope a council will reconsider an application for 180 homes and a supermarket in Mablethorpe.
It comes after residents held a public meeting in support of the £50m development, saying their coastal town will "die" without it.
The Lindum Group claims the application was not heard fairly by East Lindsey District Council and wants councillors to look at the plans again.
The council said no further decision had been made about the application.
The public meeting, held at Tennyson School on Wednesday, was attended by more than 50 people.
'Have to move'
John Mitchell, who has lived in Mablethorpe for 24 years, said: "How do you turn down a £50m investment in a town that's dying?"
Liam Lucas, 18, said: "This would be really amazing if it happened because it would help so many people and not just the younger generation.
"I'm probably going to have to move and go to different places just to find something to do, because there are no jobs and no opportunities for me.
"I'm struggling. I can't afford basic things because there's no jobs. I'm getting no money and I've got all these qualifications and grades and I can't use them."
The meeting was organised by campaign group Mablethorpe Action Group in Support of the Lindum Group Development (MAGLIN).
David Chambers, chairman of the Lindum Group, said his company had been having a "legal exchange of letters" with the council, asking for the application to be heard again at a future planning meeting.
Mr Chambers said: "The councillors hadn't appreciated what level of support was out there.
"They saw the people in the planning room against it - there were probably 25. They were not aware, because the local councillors were not allowed to speak, of the support in favour of our proposals.
"I hope good common sense will prevail."
'No further decisions'
East Lindsey District Council rejected plans for the development on Golf Road in December, saying it would be "detrimental" to the town centre and could cause small shops to close.
But members of MAGLIN believe the proposed supermarket could draw trade to the area as a whole.
A spokesperson for East Lindsey District Council said: "No further decisions have been made by the council in relation to the processing of the Lindum application.
"Lawyers for the developers have contacted the council to express their concerns.
"They have requested further information from the council.
"No further decisions can be made until both parties have had a full opportunity to consider that information.
"Until the developer has put their concerns in full the council is not able to properly consider its position."