Skegness Natureland look for sponsors to fly Arctic seal home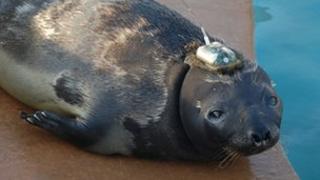 Staff at a Lincolnshire reserve are hoping to find a sponsor to help them fly a rescued seal back to Greenland after it became lost in the North Sea.
The seal was found in Chapel St Leonards in December and taken to Skegness Natureland reserve.
It was the second time the seal, called Eve, had lost her way.
In August she was found by staff at a seal sanctuary in Friedrichskoog, Germany, where she was fitted with a tracking device.
'Natural instinct'
Staff at the German reserve had tracked Eve across the North Sea to Scotland where she had turned and headed south to where she was eventually found in Lincolnshire.
Natureland's Duncan Yeadon said Eve was very underweight when she was found, but is now recovering well.
He said: "We were a little bit worried about the amount of weight she had lost - but hopefully when she is released her natural instinct to head north will kick in," he said.
"Our best option is to get her closer to where she would come from in the wild.
"So it would be fantastic if we could get sponsorship to fly her out to Greenland - even to take her up to the north of Scotland to release her would be a headstart."