Arrest in Horncastle metal theft crackdown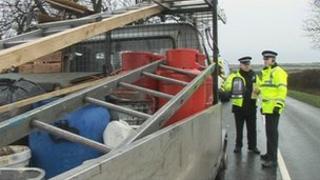 One arrest has been made during a police crackdown on metal theft in a Lincolnshire town.
Police set up check points at roads going into Horncastle to stop and search vehicles that could be carrying scrap metal.
Hundreds of people had their vehicles checked by 20 officers during the operation on Saturday.
Sgt Richard Comins, from Lincolnshire Police, said metal theft was a major problem.
He said: "We are running at seven or eight thefts a week, that is unacceptable. One theft is too many and that's why we're taking action."
Police said Horncastle was chosen as a large volume of traffic visits the town to weigh-in scrap at two large scrap metal dealers and one smaller dealer.
During a previous operation, in October, two 18-year-old men were arrested on suspicion of metal theft.
Last year, three tonnes of lead, worth thousands of pounds, was stolen from St Lawrence's Church, in Revesby, near Horncastle.