University of Lincoln to cut up to 700 students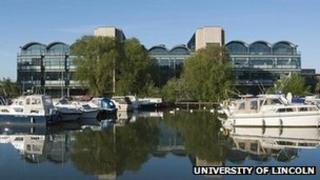 The University of Lincoln has announced it is to reduce its student numbers by up to 700 because of funding cuts.
Officials said the 11% cuts were on instruction from the government, which funds the student loans system.
Deputy Vice Chancellor, Professor Scott Davidson, said the reductions were part of government plans to offer cheaper tuition fees with other providers.
The University of Lincoln plans to charge the maximum annual tuition fees of £9,000 from 2012.
Mr Davidson said: "We've got a government plan to drive down tuition fees by taking 20,000 students from the universities and redistributing them across further education colleges and lower cost university providers."
He said the university was working closely with Lincoln College and North Lindsey College to support them with applications from higher level students.