Museum of Broken Relationships comes to Sleaford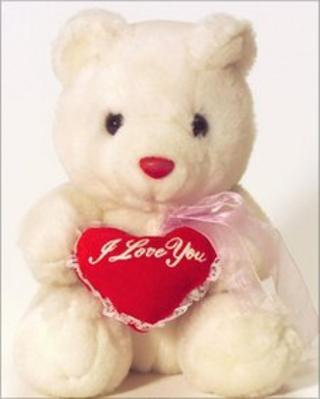 An international touring exhibition which features keepsakes from failed love affairs has come to Lincolnshire.
The Museum of Broken Relationships has opened at the National Centre for Craft and Design in Sleaford.
Among the exhibits, which were donated anonymously, were a Taser stun gun, teapots and a toy caterpillar.
Artists Olinka Vistica and Drazen Grubisic from Croatia came up with the idea after their own relationship ended, as a way of expressing the pain.
'Exciting pieces'
Laura Mabbutt, exhibitions officer at the centre, said one of the most unusual items on show was a small bottle containing the tears someone cried after their relationship broke up.
"It's not just teddy bears, pieces of jewellery and love letters, we've got some really exciting pieces and unusual objects here and that's one of them."
Many of the items on display have come from a permanent exhibition in Zagreb, which was awarded the Kenneth Hudson Award for Innovation earlier this year.
It houses more than 700 objects donated by people from all over the world whose relationships have come to an end.
One item on show at the permanent exhibition is a teddy bear with a note from one broken-hearted owner.
It reads: "I got this teddy bear on Valentine's Day. He survived because it wasn't him who hurt me, but the idiot who left him behind."