Abusive brass band tweets were 'banter'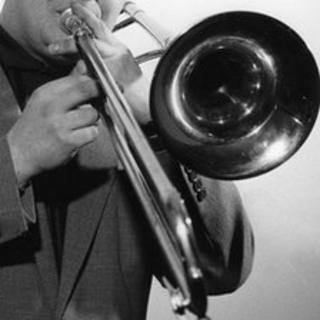 A brass band member who posted abusive tweets about fellow musicians said they were intended to be "banter".
Some of those targeted during the brass band contest in Skegness have spoken in defence of the tweeters responsible, saying the comments were not offensive.
One comment suggested a male musician had received an award for sexually abusing children, while a percussionist was likened to Adolf Hitler.
Lincolnshire Police said they were examining the material.
'Increasingly degrading'
One of the tweeters, who asked not to be identified, said: "I was given the login info for the Twitter site from the creator, who shall remain nameless but is a member of one of the most prolific bands in the country.
"The intention from the start was to provide alternative coverage of the event with light hearted witty banter, which was the case.
"Unfortunately one or more of the co-contributors became increasingly degrading and the comments went downhill."
Organisers removed the tweeter from the Butlin's Mineworkers' Open National Brass Band Festival, held on 21 and 22 January.
He said his band has since asked him to step down.
The Twitter account has been deleted since the comments were made.
'Sack of gravel'
Steve March, whose trombone playing was criticised, said he was not offended.
Mr March, 29, from Market Harborough, Leicestershire, said: "I was mentioned in several tweets regarding the Butlin's event.
"One said something like my trombone sounded like it had a sack of gravel in it. You know what, it probably did.
"The banding movement is traditionally a working class tradition and hobby, and while things evolve over time there is still a heritage rooted in factories and pits that results in general conversations in pubs that are far from family friendly. It's all banter."
Some of the comments suggested that awards such as "crimes against music" and "on-stage blasphemy" had been given to competitors.
'Tongue-in-cheek'
A 27-year-old trombone player, whose dress sense was criticised in one of the tweets, said: "As one of the people who an award was named after I did not take offence with the comments.
"Some were very close to the bone but I do believe coarse language has been viewed ultimately as making this worse.
"In terms of racism, homophobia and sexuality I can provide examples from existing brass band media sources which also can be deemed as such, just minus choice language.
"My view was it was tongue-in-cheek and deliberately divisive in its humour which has been shown by the divided response to the posts both at the event and afterwards."
More than 100 comments were posted.
Another musician said: "I had an award named after me but to honest it didn't bother me a bit. I'm too busy and have too much stuff going on in my life to worry about things like that."
Mr March added that no complaints were received by any people following the Twitter feed, or mentioned in the feed.
Tweets in support of the feed included: "Well done lads for making me laugh all weekend. Keep up the good work," and "Why can't they cover ALL banding events?"