Lincolnshire shooting leaves police officer hurt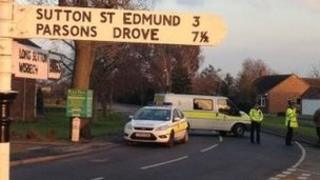 Police are negotiating with a member of the public in a Lincolnshire village after a police officer was injured in a shooting.
Officers dealing with the incident in Chapelgate in Sutton St James warned people to stay in their homes or go to the village primary school.
The village was sealed off with "containment points" and drivers were asked to avoid the area.
The police officer has been treated in hospital for minor injuries.
Police said the officer had not been wounded by gunshot.
Det Supt Paul Gibson said officers were trying to resolve the incident as quickly and as safely as possible.
"Because the incident is ongoing I can't go into specific detail.
"But what I can say is that a member of the public has discharged a firearm which has caused a police officer to receive very minor injuries.
"Police officers are trying to negotiate with the member of the public with a view to resolving this as quickly and as safely as possible," he said.
Officers were called to the incident at around 11:00 GMT.
Bullet-proof jackets
A woman working at the Chapelgate post office in Sutton St James said: "The village has been shut down - the police have cars at a lot of the junctions coming into the village and they won't let anybody in."
Margaret Cawood, who lives on Chapelgate, said: "There are armed officers - three, four, maybe five, just outside.
"There was a helicopter here earlier but now the road is full of vehicles, police incident vehicles and ambulances and people are putting on bullet jackets and things.
"They look as though they are concentrating on one house about 200ft away."
People who live in the area and who are not already at home have been told not to attempt to go home.
Those in need of shelter were being directed to the village hall in Sutton St James but police are now asking residents coming home to go to the primary school in Bell's Drove.
The village is in the south of the county, close to the border with Norfolk.