Sutton St James stand-off: Man's body found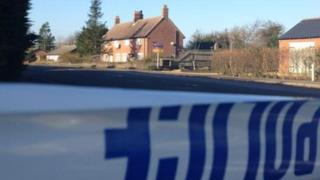 A man has been found dead by police who had been negotiating with him during an armed stand-off which led to a Lincolnshire village being sealed off.
A firearm was discharged, injuring a police officer but the Lincolnshire force stressed that the man had not actually been shot.
The stand-off at the house in Sutton St James, began at about 11:00 GMT on Tuesday.
The man's body was found at about 22:30 GMT after police entered the building.
Lincolnshire Police said no shots had been fired by its officers.
A spokesperson said the Independent Police Complaints Commission had been informed.
Earlier, the village had been sealed off with "containment points" and drivers were asked to avoid the area.
Police said they were called to the Chapelgate property following reports the man, who was alone in the building, had a firearm.
'Co-operation and patience'
They said trained negotiators had been talking to the man for "a considerable period of time".
Officers from Leicestershire and Nottinghamshire were also called in to help deal with the situation.
A police spokesperson said the injured officer had since been discharged from hospital.
"All residents are now safe to leave their homes and we would like to thank people living in the area for their co-operation and patience," the spokesperson said.
Earlier, villagers were told not to leave their homes nor to try to go home.
People were initially told to go instead to the village hall and then to the primary school in Bell's Drove.
The village is in the south of the county, close to the border with Norfolk.