Sutton St James siege death man named as Barry Horspool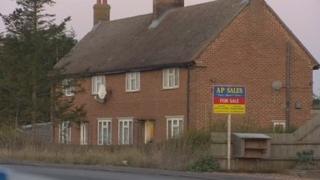 A man who died following a lengthy stand-off with police has been formally identified as Barry Stephen Horspool.
The 61-year-old was found dead by police when they entered his house in Sutton St James, Lincolnshire, on Tuesday night.
Mr Horspool had apparently fired a gun in the direction of a police officer but Lincolnshire Police said their armed officers fired no shots.
Mr Horspool's cause of death has not been determined.
Further medical examinations are needed before an inquest can be opened, which is expected to happen in about a week.
Police were initially called to Chapelgate in Sutton St James at about 11:00 GMT on Tuesday.
A police officer was treated for minor facial injuries after Mr Horspool fired towards him and police are trying to establish whether the injuries were caused by the gun.
Police entered the house at about 23:00 GMT following several hours of negotiations.
People living in Sutton St James said Mr Horspool was a "quiet" and "friendly" grandfather who was often seen around the village on his mobility scooter.
The Independent Police Complaints Commission (IPCC) has determined it does not need to undertake an investigation.
An IPCC spokesperson said: "From the evidence available the IPCC believes police did what they reasonably could to negotiate a peaceful resolution."