Mini gritter to treat more Lincolnshire roads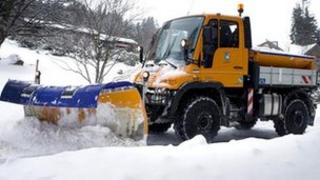 A mini gritter which has been tried out in Lincolnshire would treat more roads, the county council has said.
The larger gritters, which used about 4,000 tonnes of salt last weekend to treat priority areas, have trouble on narrow roads.
Lincolnshire County Council has been using the new Unimog 500 to salt and plough snow in Boston and Spalding.
It is looking to replace some of its 43 larger machines with the new mini gritter.
David Davies, the county council's winter maintenance engineer, said: "Sometimes we can't get down a road because there are cars parked either side. A smaller gritter like this would mean that we can."
About 15,000 tonnes of salt have been used on Lincolnshire's roads this winter.
This compares with 28,000 tonnes last year and 34,000 tonnes the winter before.